Why Portable Self-Storage Shipping Containers Works Best
"Portable" implies that the container can be easily moved to your location, just like a shipping container, and then used as a stationary storage unit upon arrival. It also can be easily relocated. Portable self-storage shipping containers are large, secure, and (usually) weather-resistant that can be conveniently moved from place to place. Although a portable shipping container can be used in some moving situations, it is not always the right choice.
A shipping container is typically more expensive than the other moving options, this is because it is the only option that solves the issue of both movement and storage. In other words, a portable seafaring container is often more pricey because of its convenience. Most truckers with a tilt body truck/ roll-off will not move a loaded container long distances. Container Sales Group offers high-quality portable self-storage shipping containers. Check our reviews, to see what our customer says about the quality of our containers.
Have any questions about Container Sales Group's services? Read our FAQ Section.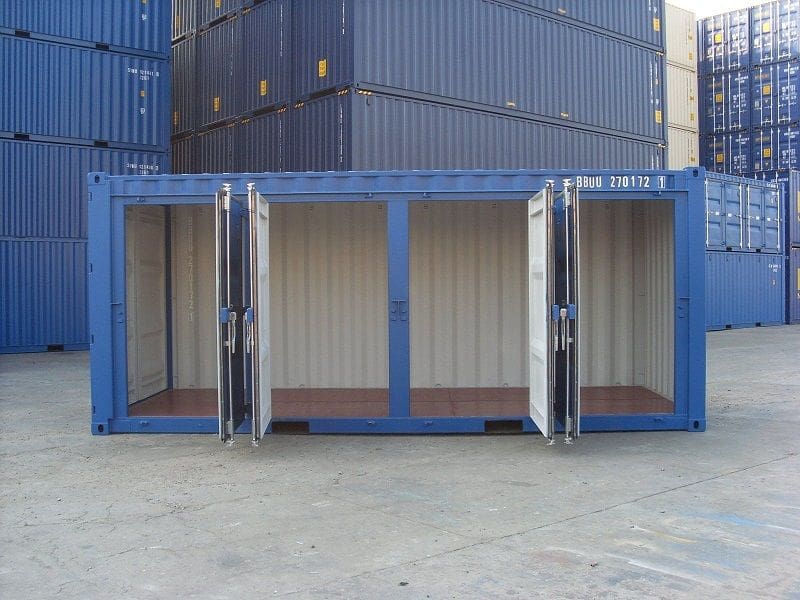 6 Advantages of Using Portable Self-Storage Shipping Containers
Their steel construction and waterproof nature make them durable and tough.
It is convenient to pack and store them on the go when they are movable or portable.
Self-contained storage facilities eliminate the rodent and bug problems associated with a lot of storage facilities. Additionally, the container is not connected to any other units, so it provides extra security.
Their facility provides a safe, secure environment for storing your belongings.
Generally, they are drive-up locations, which are becoming less common in our industry. Having a parking space at the front of your storage container allows you to move your items quickly and easily, especially those awkward or heavy items, without having to hire (and pay for) professional movers.
Ideally suited for recreational equipment storage. Among other things, you can store vehicles, trailers, boats, ATVs, and UTVs. Using a container and sealing it, we can easily drive these things into the container to protect them.
Interested in purchasing shipping containers? Container Sales Group has what you need! Contact us online or through our telephone number (708) 639-4783
Container Sales Group offers the following services:
Other Articles We've Hand-Picked for You