Shipping Containers As Covid -19 Testing Facilities
Shipping containers aren't just ideal solutions for transporting goods. Their durability, straightforward maintenance and modification, and availability in a variety of sizes and types means there are dozens (if not hundreds) of shipping container uses. These containers can be a particularly logical choice for COVID-19 testing facilities. Other than that, it doesn't need permanent installations and all of them have non-conductive walls. It can be modified so that they contain essentially anything and, in the case of COVID-19 testing facilities, this means a very safe and protected place for scientists and their staff to go about their business. 
Shipping containers can be completely sealed off to prevent any outside contaminants from getting in; if something goes wrong with the COVID-19 testing facilities, for example, nobody will get contaminated. As they are sturdy enough to resist even severe weather conditions, shipping containers as COVID-19 testing facilities are definitely a viable option. Container Sales Group offers shipping containers that can be built into a secure testing facility that is constantly monitored and locked uptight. Check our reviews, to see what our customer says about the quality of our containers.
Have any questions about Container Sales Group's services? Read our FAQ Section.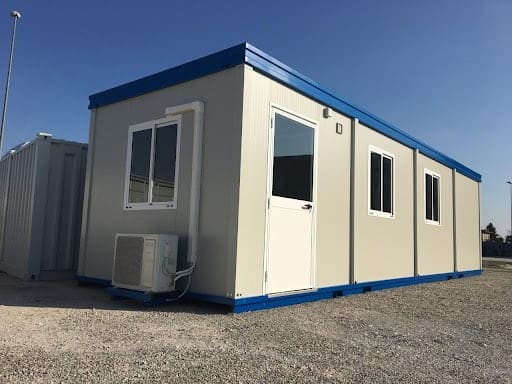 5 Benefits Of Shipping Container Used For COVID-19 Testing Facilities
The benefits of shipping containers as COVID-19 testing facilities are numerous.
1. They provide a quick and inexpensive solution for laboratories that need to be up and running in a short amount of time. In addition, shipping containers present a unique opportunity to build COVID-19 labs in places where it might not be feasible to create more traditional, permanent structures.
2. Shipping container lab facilities provide secure and protected places for scientists to work on their experiments.
3. Shipping containers as test labs give scientists many options with how they configure the interior that house COVID-19 equipment and personnel. Since they are modular by nature shipping container COVID-19 testing facilities can adapt to an infinite number of needs.
4. Shipping container COVID-19 testing facilities are more efficient because anything scientists do in their shipping container research program becomes part of an ever-growing body of knowledge that shipping container COVID-19 testing facilities can utilize.
5. As shipping companies begin building larger and larger shipping containers, as COVID-19 testing facilities will be able to increase their capabilities. This means covid testing containers have a bright future in the world of chemists and engineers.
Interested in purchasing shipping container? Container Sales Group has what you need! Contact us online or through our telephone number (708) 639-4783
Container Sales Group Offers The Following services:
Other Articles We've Hand-Picked for You