How To Check Used Shipping Container Before Buying It
Used Steel Shipping Containers that are inspected to be Wind & Watertight are built out of strong Corten steel which gives them the durability and structural integrity to make them last for many years after being retired from the steamship lines.
Although they are no longer are used to move cargo overseas, they are great for building and keeping items inside safe & protected from the outside elements. Container Sales Group is a leading provider of selling New and Used Shipping Containers Near Me for over 24 years and
It is important to keep in mind that used shipping containers will have surface rust, dings, dents, and professional patches and true Wind & Watertight Containers will have sold floors, no holes and their doors will seal properly.
A lot of people think they are saving money when they buy the cheapest Used Storage Containers they can find, but the cheapest used shipping container often leaves your equipment and items in jeopardy and the long run, wastes your time and money.
All reputable container suppliers should inspect containers before delivery. At Container Sales Group all our containers have passed wind/watertight inspection by an industry expert. So, at the time of delivery or pick up, our customers are guaranteed wind/watertight condition.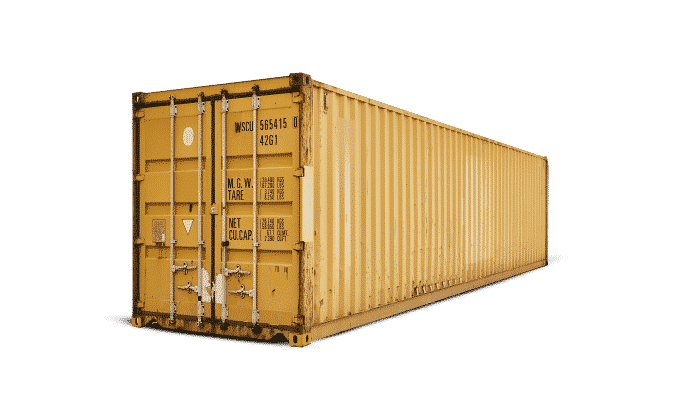 How To Inspect A Shipping Container?
When you select a shipping container supplier or vendor, it is important to find a company that will back up what they sell to ensure you are getting the condition you paid for. Upon delivery, it is important to inspect the used 20 ft. or 40 ft. shipping container to ensure is in wind and watertight condition. Here are some ways to inspect your shipping container:
Outside
Look at the exterior and examine its overall condition.
Check corner, seams, and door seals
Make sure the doors open and shut tightly and make sure the container is on level ground
The door handle locks the doors in place and the hinges are not full of rust
Inside
Walk inside the container and close the doors behind you. You should see no light, if you see any light that means water could get in.
Look at the floors, they should be solid.
A used 20′ shipping container is a great way to start your mobile business or even just have extra storage space for personal use. When buying a used shipping container always inspect the unit closely before making any purchases. Hope the tips above help you. So, do not buy without inspecting!
Container Sales Group sells containers that are appropriate for both commercial and residential use, owing to the numerous benefits they provide. They are sturdy, long-lasting, have high-security features, and may be utilized in a variety of applications.
Finally, if your budget is more for a Used Containers For Sale but aesthetics is still important, most people will wire brush and put a coat of paint on the shipping container (also known as a Conex box). This will help to not only make your Conex box look nicer but also help maintain it down the line.
Looking for Used Conex Boxes For Sale Near Me? For more tips, see our videos on maintaining your used shipping container.
For a shipping container quote, call Container Sales Group at 708 639-4783.
Popular Products For Shipping Containers:
Other Articles We've Hand-Picked For You