As you can imagine, shipping containers are incredibly sturdy structures. Designed to withstand long journeys by steamship lines, train, and truck so they can endure significant wear and tear and last longer than 35 years.
Below we offer some advice on how to improve the airtight quality and prevent condensation in your shipping container.
Are shipping containers water/wind & airtight?
Not entirely watertight or airtight. They have small vents, and the doors have a rubber seal that stops water from entering but not air. Small vents don't allow water to gush inside, but it keeps air circulating to protect your goods. Reefer (refrigerated) are insulated containers that are void of openings as circulation inside the box will disrupt the cooling or heating mechanism.
New/One-Trip or Used shipping containers are manufactured with approximate 8 x 2 x 1″ vents and are covered with mesh to prevent bugs and insects from getting in and out of the container. You typically will get 2 vents on a 20ft container and 4 vents on a 40ft container.  These vents must be small to ensure that no water enters the container when overseas and due to their size limited airflow is achieved, but condensation can still occur.
 Container Sales Group inspects all of our shipping containers to ensure that the vents are intact.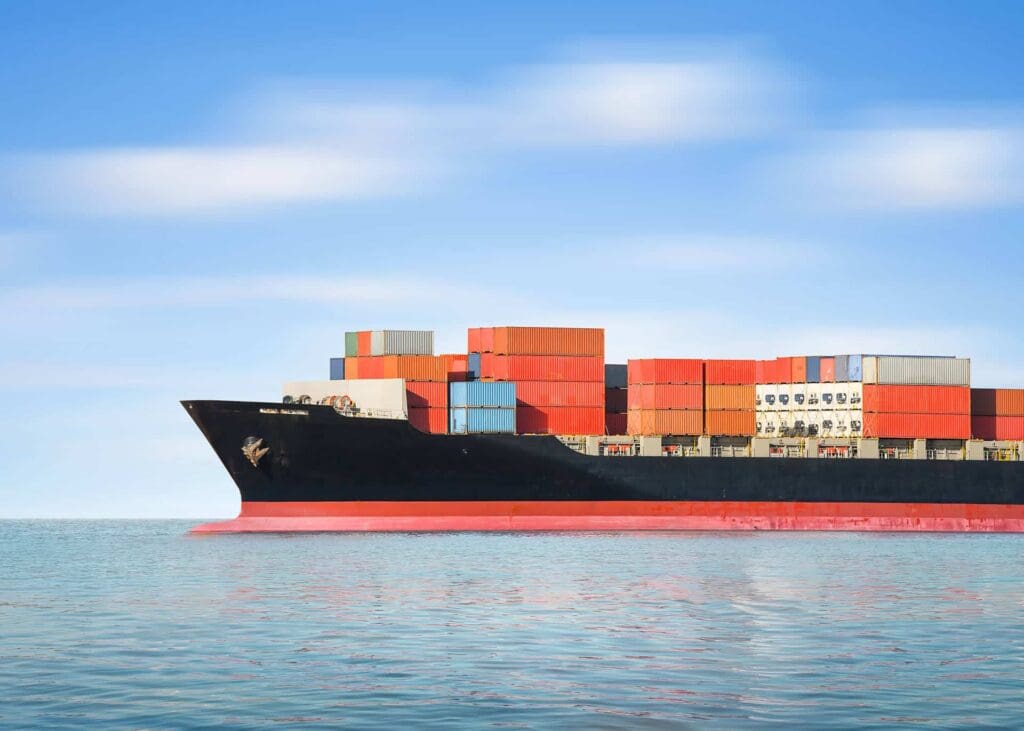 What is condensation in a shipping container?
Shipping container condensation occurs when the walls of the container become cooler than the dew point of the air found inside the container. Because shipping containers are crafted from metal, internal temperatures can shift significantly due to weather changes and other external factors. When the container cools significantly, the air is no longer able to contain its moisture-it has reached its dew point.
Once this occurs, the moisture falls out of vapor into liquid form, which then builds and collects on the walls and roof. This condensation can drip all over, resulting in significant losses.
Reasons condensation occurs in the container
Moisture damage can lead to millions of dollars in losses and have a devastating effect on your business. The amount of condensation in a shipping container can vary based on temperature, air space and ventilation.
Temperature: When temperatures significantly change, liquid can build up in the air.
Air Space: The more space left open in the container, the more moisture content in the air. This makes condensation issues more likely.
Ventilation: If a shipping container is not properly ventilated, the flow of air is obstructed. Airflow can help equalize the temperature inside the container with the temperature of the outside air; the smaller the difference between the two, the less likely condensation is.
3 Ways to Keep Moisture & Condensation Out of Your Shipping Container
While it's impossible to completely prevent moisture buildup, there are ways to control condensation in your shipping container.
The most cost-effective and simplest way to control moisture & condensation is to have air circulating through your shipping container, this will reduce or prevent condensation. It equalizes the air temperature on both the inside and the outside.
Insulation: Styrofoam is the cheapest way to insulate a container, it doesn't require any build-out of stud walls to secure the panels. This type of insulation combats condensation and creates a seamless vapor barrier.  The form is flexible and makes it easy to reach gaps of all shapes and sizes.
Spray Foam requires no framing because it adheres to the ceiling, walls, and even the underside of a shipping container.  It has a high R-value (R = 6 per inch of thickness) and it acts as a sound barrier but resists mold and fungus.
Batt Insulation is a pink-in-color cotton candy-like material you've seen in attics and crawl spaces.  Likely made of mineral wool, finely woven strands, natural fibers (such as cotton and sheep's wool), fiberglass, or plastic fibers.  Once the shipping container is framed, batt insulation is easy to install.
Here is a link to a product that some of our customers use to keep moisture out of their containers:
https://amzn.to/3GBDPui