Buy Shipping Containers Direct in Houston Texas
If you want to buy Houston Texas shipping containers direct, it can help you save some money and they are relatively easy to acquire. However, if you are a first timer, it might be difficult to go through it all by yourself as this type of transaction is a bit different from a standard purchase. 
If your intention is to save money, then buying shipping containers direct is a good option. But keep in mind that the price you get for these storage units is significantly lower than what you will get when you sell them later on. This should encourage you to buy only if you have a specific use for them.
That is where Container Sales Group can help you out. Our main goal is to help our shipping customers solve their storage, building & ocean export needs. We work with F500 Companies, Nationwide Construction Firms, Universities/Schools, Builders, Individual Homeowners, or International Freight Forwarders- helping them with their shipping needs.
Looking For A Place To Buy Containers In Houston Texas?
Look no further! Here at Container Sales Group, we offer an inventory of both new and used shipping containers for sale. We have a variety of sizes and types available, so you can find the perfect container to meet your needs.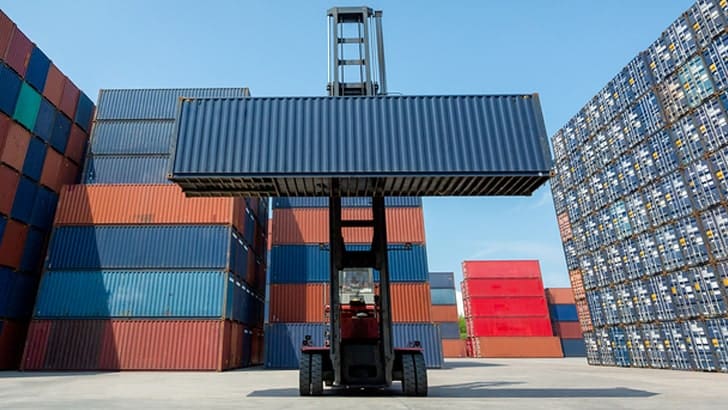 We Buy Containers Direct:
Yes, we buy containers direct from the steamship lines to offer our customers the highest quality container at the most competitive prices. Get a FREE Quote or call us today at (708) 639-4783. We'd love to hear from you!
Shipping Containers Available For Purchase:
20 Foot Standard — Provides 150 square feet of interior space which is perfect for jobs that only allow for small/tight containers.
40 Foot Standard — Provides 300 square feet that's ideal for office space, small housing, item storage and more.
40 Foot High Cube — Like the standard 40′ container, the High Cube provides 300 square feet of space but with an extra foot of height.
Strong Durability, Construction and Fireproof
One plus of shipping containers is their strong building and construction. Many containers are made from steel. This makes them water-proof, which is exceptional for storing products and also valuable products near the ocean, in severe weather condition and also when shipped. Steel containers are additionally fireproof, which is a good benefit to have in an area prone to wildfires.
So if you buy shipping containers direct in Houston Texas, let us be your provider.