Understanding Before Buying
Before making a purchase, it will be good to have at least a brief background of what you are looking for. Maybe you are thinking right now of having a Container Office Building. Get a container and turn it into your shelter or storage.
The best way to make sure that your container purchase will meet your needs is by understanding exactly what each accessory can offer or provide you with. Container Sales Group offers a large selection of Shipping Container Accessories such as lighting, locks, ramps, container maintenance, repairs, and vents and fans. Our listings are updated, so feel free to check back often!
There are many things you can do with our shipping containers. You can use those containers as a Shipping Container Office, Shipping Container Greenhouse, Shipping Container Workshop, Shipping Container Medical Facility like most other countries do, and many more. Looking for more ideas? Read our list of 26 ideas for shipping container uses for your business, home or community. 
If you are looking for some containers that you can use for whatever purposes you have, here is our contact number (708) 639-4783, and don't hesitate to call us and get a quote. You can also look for our frequently asked questions for some of your inquiries and reviews for our company's reliability. You might as well check our different blogs that can help you.
Identifying Your Containers In Need
While it is true that all shipping containers have their use, some are still better for specific applications. You need to know what you plan to use the container for before deciding on one that best serves your needs.
Understanding the differences between shipping container grades can be a challenge. An overwhelming amount of information can quickly become confusing when you search online.
Most shipping containers are either 20 feet or 40 feet in length. Each container has several different grades to choose from. Container grade refers to the quality of steel that was used in construction. You need to understand the differences between grades to make an informed decision about which shipping containers will suit your needs best.
We have different containers offered such as 20ft, 40ft, 40ft High Cube, Double Door, Flat Rack, Open Side, and Open Top Containers.

Different Shipping Container Grades/Conditions Brand
New/One-Trip Containers
New Shipping Containers; These are often called One-Trip, One-Way, or One-Use. And these containers were built overseas and made a one-way move with cargo from the manufacturer to the United States.
Used Containers
A "Used" container has been previously owned and used for commercial transport by the steamship lines. It has moved a wide variety of products worldwide. IICL and Cargo Worthy Containers are still certified to move cargo overseas while Water/Wind Tight are retired. These are made from strong Corten Steel and come in different conditions.
IICL Containers (IICL)
"IICL" stands for Institute of International Container Lessors – a "Certified Used Container." These containers have all been previously owned and operated for commercial transport. Still, they have been inspected by an authorized party (usually for insurance or quality purposes) and certified as being in good working order and still can move cargo overseas.
IICL Containers have strict repair standards for used containers from the Institute of International Container Lessors. IICL didn't define the age of containers, and the repairs made to the container have passed the strictest criterion out there.
Cargo Worthy Containers (CW)
A "Cargo Worthy" container is sometimes used to describe containers that meet certain quality and safety standards. However, no specific international organization or government body governs this.
Cargo Worthy Containers are typically 10-15 years of age. Aesthetically, Cargo Worthy containers all have exterior rust, dings, dents, & welded patches. The floors will be solid marine-grade laminated plywood. The quality of the container allows for it to still move cargo overseas. It is also an ideal option for people looking for a ground-level, portable storage container.
Water / Wind Tight Containers (WWT)
Water/Wind Tight Containers are usually 10-20 years of age and are retired from moving cargo overseas. The exterior condition of these containers may have rust, dents & welded patches but they are structurally sound and durable. Many buyers use these containers for ground-level storage or building purposes.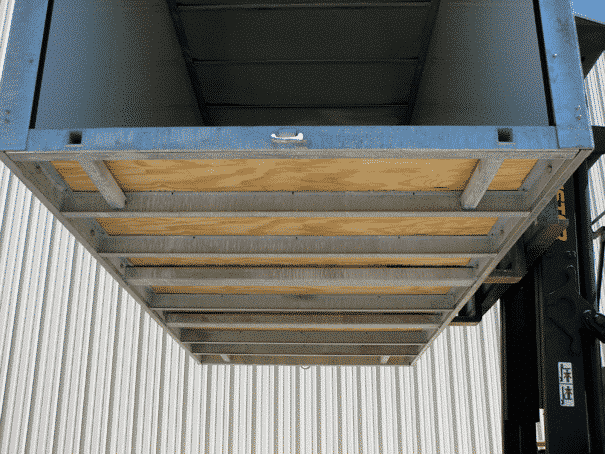 What's Under That Shipping Container?
Steel cross-members span the width of the container under the floor. They are spaced out about every 4-6″. They are about 5″ high. This framework under the flooring gives it strength and a 20 ft. shipping container can hold up to 62,000 lbs.
The floor is marine-grade plywood that is screwed into the cross-members. Marine-grade plywood is plywood that has been treated to make it more waterproof and insect-proof. Also, an additional coat is put on the bottom of the wood to create even more of a moisture barrier.
However, if your flooring should wear out, it is also easy to replace. Unscrew the section that needs replacing (or even part of a section that needs replacing) and screw in a replacement piece.
Why Buy With Us?
Now that you understand the different container conditions, it is important to find the right shipping container supplier. Container Sales Group has been selling containers for over 20 years.
We offer:
Competitive Pricing on New and Used Shipping Containers.
Water/Wind tight Guarantee.
Industry-Leading Customer Service.
Secure, Easy Purchasing Experience.
Knowledgeable Staff-over 25+ years in the Shipping Container Industry.
Professional, On-time Delivery.
We Always Give Back
In addition to offering a quality container at competitive prices, our company believes in making a difference in our world and giving back. Organizations we have selected to give back represent an area of passion to which our employees feel connected. When you do Business with Container Sales Group, we give a portion of our proceeds to support organizations. We are helping Feed My Starving Children, Ronald Mcdonald House Charities, Helping Hand Center, and Wounded Warrior Project.
So, what are you waiting for? Call us and Get a Quote! Buying shipping containers can be a daunting task. But it doesn't have to be. At Container Sales Group, we want to make the process as smooth and easy for you as possible. That's why we've outlined the differences between our shipping container grades and explained why buying with us is the best decision you can make.
We hope this article has helped clear up any questions or concerns you may have had about purchasing containers. If not, please don't hesitate to call us – we would be happy to answer any additional questions you may have.
Container Sales Group Sells the following:
Other Articles We've Hand Picked For You: