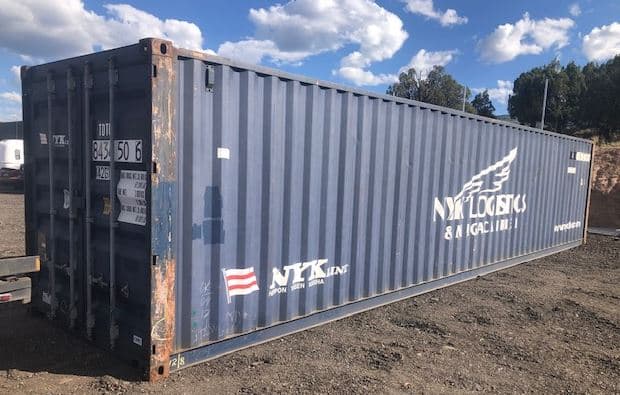 Looking to Buy a 40' Shipping Container?
If you are purchasing a shipping container? The most common shipping containers' sizes are 20 & 40 ft. Standard length (8 '6" high) and are used for storage, building & ocean shipping purposes, as well as modifications of commercial and living spaces.  However, if you have the room, most customers purchase a 40 ft. standard shipping container because it is the best cost per sq ft. capacity available, and if you need the extra foot in height, you can purchase a 40 ft. High Cube container which is (9' 6" high)
40 ft. Standard Shipping Containers has the following dimensions:
External measurement: 40' length x 8' wide x 8'6″ high
Internal measurement: 39'5″ length x 7'8″ wide x 7'9″ high
Floor area: 305 sq ft
Volume:  2360 cu ft
Maximum weight: 3950 kg
Why buying a 40 ft. Conex Boxes / Shipping Containers make sense?
These shipping containers are made from corrugated Cor-Ten steel and the floors are made of load bearing, marine grade laminated plywood with steel bars underneath running every 12 inches across the length of the containers. They have a double door at one end of the unit with the ability to add a padlock for security on the outside.  The strong structure allows these containers to withstand any type of weather including massive sea-storms. Shipping Containers are weather-proof, free-standing units that can be used for storage, ocean export and building purposes. 
How to find the right vendor to purchase from?
There are a lot of vendors out there selling shipping containers, so it is important to research and find a reputable shipping container vendor that stands behind what they sell.  When you research a vendor, this can be reflected in their online customer reviews which will give you an idea of what to expect regarding the quality of the containers and the customer service.  Container Sales Group has been selling new and used shipping containers to builders, businesses, homeowners, and freight forwarders throughout the United States for over 23 years.  Our focus is on creating a positive customer experience from the time you call our company to the day you get delivery on your container and our customer views reflect this.  We also offer a Water/Wind Tight Guarantee on all our shipping containers.  We take pride in helping our customers solve their building, storage, and ocean export container needs.