74 Awesome Ideas For Shipping Container Uses
Shipping containers can be found in many places around the world – from the ocean to landfills. But what if you could find a use for these forgotten structures? This article provides ideas on how to repurpose shipping containers and make them work for your needs. From homes, offices, storage units, restaurants, and a lot more.
The use of shipping containers as housing has grown in popularity recently, with several books and websites on the subject. Here are unique shipping container ideas for housing or giving you some inspiration if you want to create your own space!
Have any questions about Container Sales Group's services? Read our FAQ Section.

1. Art Gallery
Creative minds around the world are continuously trying to come up with creative ideas. Have you ever wondered how art galleries are housed? How do they ensure that the art gallery can be used for years without compromising its appearance? You might not have given this much thought but it is very important because many people visit art galleries to view different pieces of art and appreciate the creativity and talent of artists.
Well, art galleries can be housed in different types of containers such as shipping containers. Shipping containers are mainly used for commercial purposes but also serve an important purpose in ensuring that art galleries can be built with ease and convenience without compromising on their appearance or quality.

2. Apartments
You will be able to build an apartment building in no time when you use shipping containers as the foundation. Just like what "Box 500" apartments just completed in Salt Lake City. This six-story building is now open and is one of the tallest buildings in the world made from full steel boxes. Shipping containers are strong enough to withstand even the most extreme weather conditions, which means they'll last for years without needing repairs.
With shipping container buildings, there is no limit on what you can do with your property. It doesn't matter whether it's an apartment complex or just one unit – it will fit perfectly into your plans for the future of your business or home life.

3. Antique Shop
Antique shops are an excellent way to earn a living. There is just something about getting the best antiques that people love! Whether you're buying, selling, or trading antiques, you can turn your passion into a business once you have the right place to set up shop.
With one of our versatile shipping containers as your foundation, you can turn it into an antique shop without too much trouble. You can pack your most prized possessions in this sturdy metal box, and they'll be safe from harm. The double walls make it impossible for anything to get through, even if fired from nuclear bombs.
All you need is some imagination, creativity, and a few supplies to make your shipping container the unique antique shop around.
4. Bar
Do you love a good drink? We've got the perfect solution for your next party. Shipping containers are great because they can be used as bars, food trucks, and even homes! They're also very easy to transport around so you can take them with you wherever you go. And if that wasn't enough, shipping containers have been known to increase property value by up to 20%. You won't find another building material like this one on the market today. It's not just an amazing product but also an incredible experience you can have every day of your life.

5. Book Shop
People love reading books because they transport their imagination to new places. Book stores are great for people who want to discover what types of books they like.
Book stores can be housed in shipping containers by building them onto the side or back of your shop. You can build one, two, or three stories depending on how much space you have. It's easy to transport, can be used as a storage unit, and it's affordable.
Plus, if you ever decide to change locations or move your business elsewhere, all of your books will stay safe inside of the container. You won't have to worry about any damage done by weather conditions or other environmental factors because they are sturdy and durable.
Shipping containers are also customizable then you can make them look exactly how you would like them to. They come in many different sizes and there is always one available for every budget.
6. Bakery
A bakery is a great way to earn money from those who love sweets! Take your baking skills and turn them into a booming business with one of our shipping containers as the foundation for your bakery.
With these amazing containers, you can offer people all kinds of baked goods without having to worry about where you're going to store everything. Your shipping container building will be spacious, functional, and stylish – everything you could want from your business!
7. Brewery
Love the idea of opening a brewery that serves delicious beer to people who love drinking it as much as you do? If so, then our 40ft shipping containerse are perfect for you!
They make an excellent foundation for your brewery because they are so durable. You can easily outfit them with everything you need to start selling beer quickly and efficiently!
8. Bistro
What's a bistro?… A Bistro is a small restaurant that serves regional cuisine and traditional dishes in a casual setting. It can be very cozy with low-key decor, but it also has to have the right atmosphere for people to enjoy themselves.
Because our shipping containers are so versatile, they make great bistros! The inside can be decorated with different materials, colors, and textures to create the atmosphere you are looking for.
9. Barn
Do you want to turn your empty field into something that brings the community together? or if you're looking for a way to build your barn. Add one of our shipping containers and you can create a unique barn.
Shipping containers are sturdy and durable and can be used as a foundation for any type of building project. They come in many different sizes so you can choose one that fits your needs perfectly. You can decorate it however you like or leave it plain, but either way, it will stand out from all the other buildings in your area because everyone loves seeing shipping containers!
Plus, they last forever! You won't have to worry about replacing them or repairing them like other materials such as wood or metal because they will never wear out!
10. Bicycle Repair Shop
For those who enjoy cycling, a shipping container bicycle repair shop is a great place to go. It's a one-stop shop where people can come for a variety of different needs because they sell everything from snacks and drinks to tires and chains.
With our versatile shipping containers, you can easily create the perfect bicycle repair center! There is enough space in our containers to add shelves, display cases, and other fixtures to make your shop unique and inviting.
11. Bank
A shipping container bank might seem like an unusual idea, but these former containers are actually very convenient if you need to house anything from money to jewelry. It's also sturdy enough for people to feel safe about leaving their valuables in your care!
The outside of the building can be designed however you want because there are no limitations when it comes to creativity. You can also outfit the inside of your bank with anything you need to ensure your customers are well taken care of!

12. Cabins and Cottages
Do you want to build a resort on your property but need more than just one, two, or three rooms? You could turn 40-foot shipping containers into the perfect cottages for entertaining guests. Because they come already built container homes with little construction needed – you can move them over where ever it is that's most convenient for fun in their backyard retreat ̶ all while being able to enjoy life at its fullest from within these cozy accommodations.
13. Coffee shops
Coffee shops are great for people to socialize and hang out, but we can make it even better!
A shipping container can give you the space you need to create a unique interior design. The exterior of a newly opened coffee shop may include anything from tables and chairs, down by the river or in an airy cafe-style seating area with onyx flooring while, you enjoy one of those magazines your favorite owner reads before going off to work – whatever suits each customer's needs best because #theyworkforyou after all.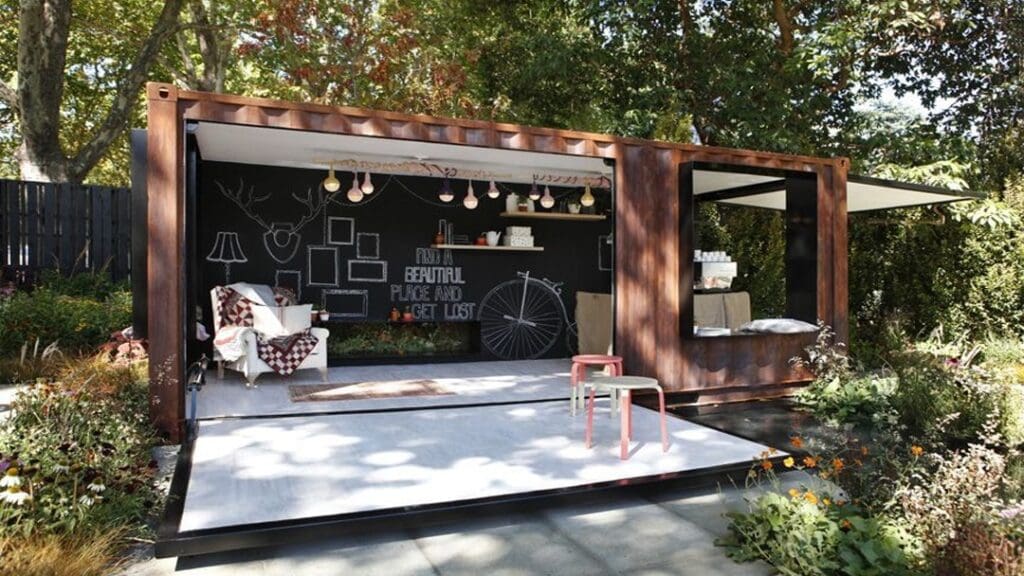 We offer shipping containers to your type of coffee shop that will fit any business' needs. By providing the perfect space for customers to enjoy their time in a new way, they'll be sure to come back again and again!
14. Campground Office
Come experience the outdoors with your office! Take advantage of storage containers that are perfect for Campgrounds. With no limitations on creativity, you can have an exterior design tailored just for you and outfit its interior to meet every need – including providing relief from sore muscles after hours spent hiking around in nature's beauty or working hard at making it beautiful again.
15. Ceramics Shop
A mobile pottery studio in the making! Do you enjoy selling your work as a hobby? Maybe it's time to turn that passion into something more. There are many ways for artists and creatives alike, with shipping containers being one of them.
Our shipping containers are the answer. You can decorate these metal boxes with different colors or textures depending on what atmosphere they need – from bright interior design looks down nostalgic country charm mode.
Storing away your items with the utmost care is made easy when you use this sturdy metal building. It has double walls to protect it from even heat, nuclear bomb explosions are unable to penetrate these surfaces unscathed!
16. Cafes
How would you like to create the perfect atmosphere for your new cafe? Cafes are a great place to escape from the hustle and bustle of everyday life. When it comes to cafes, setting your perfect atmosphere is one of the most important aspects of keeping customers happy.

Our shipping containers are just what you need for making that happen! They come equipped with high ceilings and different colors, so it is easy as pie to decorate them. There is no end in sight when it comes down to creativity. These versatile buildings can be transformed into any type of business that strikes your fancy- from restaurants or bars all the way up through hotels. The sky's the limit on where YOU could take this idea.
17. Camper Shelters
Do you enjoy the great outdoors? Maybe you want a shelter for your camper but need a more upscale version at most–then check out our containers! A 40ft shipping container is the perfect solution. They're perfect because not only can they create that rustic outdoor feel, but also have enough space so that there won't be any room or thought needed on where next week's adventure will take place.
Shipping container shelter does not require a building permit because shipping container shelter is considered an "accessory structure." It can be built anywhere on your property including the garden, potting shed, or secure storage rooms.
Not only can you create the perfect shelter, but it is also very easy to decorate, thanks to its interior space. You can also add whatever you need to make your camper shelter unique. If looking for more space, you can even turn them into cabins!

18. Clinic
If you're looking to build a clinic, you might be wondering how much it will cost.
Owning and operating a successful, high-quality medical clinic is not easy. It takes resources that most people don't have – like money for construction or even just enough time! But there are ways around these problems if you know where to look: we can help your business grow with our 40ft and 20ft containers. The interior is completely customizable – outfit it in whatever way makes patients feel most comfortable so they come back again soon after their initial visit–even build an outdoor deck or garden if desired. All it takes now is finding land zoned for such endeavors.
The price of building a clinic can vary depending on the size and location of your facility. But one thing is for sure – shipping containers are an affordable way to construct clinics in developing countries where resources are scarce. By using these sturdy metal boxes as the main structure, you can save money that would otherwise go towards labor costs or materials. Shipping containers also have other benefits like being easy to transport and assemble on-site with minimal tools required!
19. Distillery
Have you ever wanted to build your distillery? Our 40ft shipping containers are the perfect place to start a distillery. You can outfit them however you want, which means that if you're looking for space, organization, or creativity – they're sure to have all of this and more!
The interior is also customizable. You can choose whatever colors you want for the exterior of your building, and the interior also doesn't have to be boring! You can decorate them, so they look exactly how you want them to.
Well, we have the perfect solution for you. We're a company that specializes in shipping containers. These containers are incredibly durable, which means they won't break down or wear out no matter how much use they get. This is great news for any business owner who wants their investment in equipment to last a long time without having additional costs like repairs or replacement parts. With these containers, all of that is taken care of by us! All you have to do is focus on making delicious spirits!
If this sounds like something that would work well for your business then let us know more about what kind of container(s) would best suit your needs today!
20. Dog Grooming Service
This is an excellent opportunity because there are so many people who have dogs but don't have time to take care of them properly themselves. Keeping your dog groomed can be difficult, especially if they aren't friendly. Creating a place where you can groom them comfortably doesn't have to break the bank!
You can easily turn our 40ft or 20ft containers into amazing places that are designed for dogs. Shipping containers are designed to be used as mobile storage units, so they can easily be moved around and customized to fit your specific needs. These are also weather-resistant, which means that no matter what kind of weather you have in your area, these containers will keep everything safe inside without any problems. The interior is completely customizable, which means that you can outfit it however you want. You can put in a TV, comfortable chairs, and lots of toys to make it the ultimate place for dogs.
You won't need to worry about ever running out of space again when you use our shipping container solutions because we offer a wide range of sizes and styles that can accommodate almost any size business – from small businesses like yours up to large corporations with thousands upon thousands of employees!
21. Disaster Shelter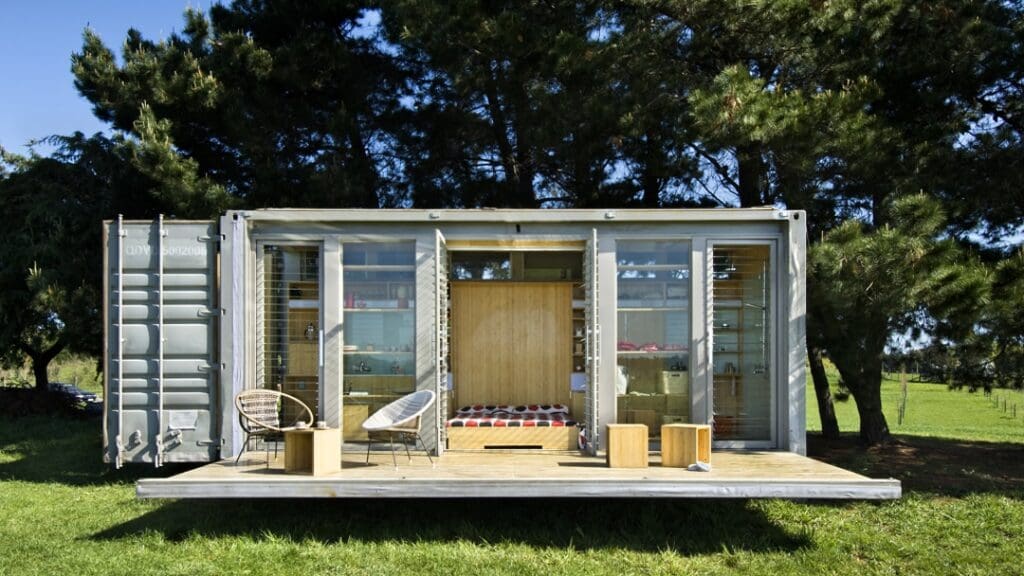 Shipping containers are typically used to transport goods across the world, but nothing is stopping you from repurposing one for your own needs. One of the most pressing needs today is shelters due to disasters like earthquakes and floods. Shipping container shelters can help protect you while allowing you to make use of existing materials or buy supplies in bulk for efficiency.
Before we start looking at different types of shipping container housing shelters, it's important to recognize the benefits and drawbacks of using one. Firstly, shipping containers are reliable and sturdy – they can easily hold several tons worth of weight and last for decades. They're also fireproof and insulate well, which is vital if you want a shelter that can withstand harsh weather conditions.
However, shipping containers aren't insulated on the inside and don't come with any amenities. You'll need to get your water supply and sanitation setup sorted out before using a container for a shelter. Some people have already set up their shelters, but others use modified containers that feature added insulation or heating/cooling systems.
22. Deck

If you are thinking of creating a deck on an open space or maybe a mountainous lot that you have, wherein you can get cozy while drinking a cup of coffee or even some cold glass of pina colada on a summer afternoon, then a shipping container deck might just answer this need.
Not sure if your garden works out? Think of building up a shipping container roof deck that you can use for anything. Set up a place where you can read your favorite book or take in the sun all day long. The sky's the limit when it comes to this particular idea!
What makes them even better are all of the different materials that are available to make your deck look exactly how you want it. Want a wooden deck? How about one that's made of bamboo or pipe? You can have it all. All you need to do is just design how it would look on the top part of your shipping container, and voila you got a shipping container deck of your dream!
23. Equipment Rentals
There are many unique ideas when it comes to the topic of using shipping containers for equipment rentals. Let's explore some of the options and choices available to you.
You could purchase a used or new shipping container unit and outfit it with all the necessary equipment and accessories that your customers need. This option would likely be less expensive than renting out a new unit.
If you have a service that you offer in larger quantities or that requires a lot of supplies, then the best option may be buying a larger shipping container. This way, you can put supplies you need inside of it. If you need to, you can cut it in half. This way, only one side of the transport vehicle will be exposed to weather elements, but both sides will still work for other purposes.
24. Event Venue
So if you are thinking of having a shipping container and would like to use it in an event? You are in luck because shipping containers make excellent venues for many types of events. They are easy to build, can be finished within days (if not hours), and also offer functional spaces at the same time.
They have been set up very successfully as shipping container venues for events such as concerts and parties. They can handle the weight of a band on the upper level, and they can handle the weight of partygoers on the lower level, without breaking a sweat.
A shipping container is an ideal venue for large outdoor events because it can hold so many people. If you are thinking about where to hold your next event venue, shipping containers may be perfect for you because they can be transformed into whatever type of space you need them to be!
25. Fire Training Station
When it comes to fire training, you need the right tools and space to train properly. This is why many companies opt to use a shipping container to turn it into a functional fire training station.
To create the perfect shipping container fire station, you'll need several materials:
– A shipping container (obviously)
– Several ventilation tubes or similar items can help provide a safe way for smoke and fire to exit the container
– Insulation for both the top and bottom of the shipping container. This will help maintain a safe temperature inside of the container.
– A combustion chamber to safely start and monitor the fire training exercises
Once you've acquired these items, it's time to get started on turning your shipping container into a fire training station. Start with a shipping container quote now. This is actually much easier than you'd think and it does not take a lot of time.
26. Food Truck
One of the most interesting benefits a shipping container can offer is food truck business opportunities. If the public loves to eat from a portable vendor, then this business model has proven itself as one of the most popular and profitable ventures for decades now. Restaurants and cafés make their money through long-term commitment; however, food trucks make money because of their mobility.
The best part is to use a shipping container as the main body of your food truck. Most people like trailers because they can make different designs. By simply attaching them to the back end of the truck. These mobile kitchens operate more efficiently if their design includes metal containers; because you can easily bring them from place to place.
The first step is to choose a type of shipping container, such as the 40ft High Cube, as it provides 2,698 square feet of space but with an extra foot of height or you can settle for the standard shipping container. This size offers enough room to store food and essential cooking equipment. It can also accommodate a three-compartment sink, a large grill with six burners, a refrigerator/freezer combo, an oven or a deep fryer, a griddle with at least three burners, and some countertop space. Plus, you can place tables and chairs on the inside of your food truck. How much does a shipping container cost? Let us get your quote. So you can get started.
27. Florist Shop
If you are thinking of "How to Start a Flower Shop" business, of course, you do not typically think of large shipping containers anchored together to make a building, right? Yet, it could be a beginning of a great story: "A small business owner, with a vision to offer fresh cut flowers and plants to local residents, opened a shop in a used shipping container." Isn't it interesting?
If you wanted to have an outside flower shop but were concerned about the cost of a traditional building then shipping containers were an inexpensive way to start with. A shipping container can be stacked two high, with a small staircase leading up to the door on one side of the container building. They are welded to each other. Your vision could be a good example when you have a good idea and a lot of determination. With a little creative thinking, a shipping container can be transformed into many different things.
As you can see, containers are not just for transporting goods. They are versatile, strong, and make a great building material. With some imagination, you can create the perfect space for your business or home.
28. Farmers Market
A farmer who tends his land will have to sell all the products in the market. Either he delivers in bulk or sells his products on a market stand in the city. Would you want to have a market stand from a shipping container?
A shipping container is an affordable, versatile, and easy-to-move structure that can be used as a retail space or pop-up shop. If you want to attract more people into your store but don't have the budget for expensive renovations, you can customize it to fit your business needs and decorate it with signage. So customers know what you're selling.
If you need extra storage space on-site or if you need somewhere secure to keep inventory overnight. Shipping containers come in various sizes depending on how much room you need and whether or not there will be foot traffic around them at night (you might want one that locks). And because they are built tough, these containers will stand up against all kinds of weather conditions – rain or shine!
29. Furniture Showroom
Are you looking for a new way to display your furniture? We have the perfect solution. Shipping containers are great for displaying your products, and they're also an affordable option. You can use them as a showroom or even as storage space! They're durable, easy to move around, and come in different sizes, so you can choose one that fits your needs perfectly. Plus, shipping containers are eco-friendly because they help reduce waste by being reusable.
Your customers will love shopping at this unique location! They can easily find what they need without having to search through endless racks like they would at other stores. Plus, with so many different containers available in various sizes and colors, there are plenty of options that fit any budget and decorating scheme. Let us know how we can help make this happen for you today!
30. Garden Center
A shipping container for a Garden center shop is not new in the market. Moreover, it is a nifty idea if you have a flower farm behind the shop. What's best is that you can move the shop wherever you would like to. Designing the shipping container can vary in many forms. If you want it to be more nature-friendly, then you can clad the exterior walls of the container with lumber woods. Then you can design the interior however you would what it to be, say a garden theme.
This is just one of the many. If you wanted to know how much is a container then give us a call anytime.
31. Greenhouse

These are structures specifically meant to be environmentally friendly. They can regulate its temperature, using solar radiation during the day and storing it in insulated walls at night. Typically, greenhouse structures are made of glass or plastic. However, if you want to build one with the least environmental impact, the use of shipping containers is an ideal choice.
Construction materials such as glass and plastic require extensive amounts of energy to produce and transport. On the other hand, you can find shipping containers just about anywhere. They are made of steel and function as shuttles for transporting cargo across the ocean, so they are designed to be resistant and sturdy.
If you want to build a greenhouse using shipping containers, here is what you need to do:
Step 1: Set up the foundation for your greenhouse. Shipping containers are built to withstand weight, so you can stack them on top of another without worrying about the foundation failing.
Step 2: Remove any rust or sharp corners. Since you will be handling your greenhouse regularly, it is best to make sure that it does not have any sharp corners or rust.
Step 3: Construct the walls of your greenhouse. Since you are using shipping containers, you can simply weld them together or use pre-made steel joints.
Step 4: Install the insulation of your choice. You can also use fiberglass insulation (the most common type), but if you are concerned about the environment, you can use sheep's wool insulation, which is just as effective.
Step 5: Add the door of your choice. If you want to be able to roll up the door to let fresh air in, you can use a rolling door.
Step 6: Add some windows and ventilation fans for additional lighting and ventilation.
Once you place your greenhouse in a sunny area and add the plants, it will start acting as a self-sufficient environment that does not rely on any other system to function.
Greenhouses are a great way to have a stable source of food since you can grow several different types of plants in a small space. So, if you want to experiment with gardening without having to clear a patch of land, then building a shipping container greenhouse is the perfect opportunity.
And that's it! You can build your shipping container greenhouse by following these simple steps. However, if you need to buy one, you can visit or call us at any time.
32. Guesthouse
If you decided to add diversity to your property, why not try to build a shipping container modular guest house? How to do it is super easy. You can stack supplementary shipping containers on top of or beside the original, then cut an opening for a door or staircase. You might change your mind later on, so it's nice to know that this is always an option.
Shipping container homes can be fully permanent, but they can also be moved. It just depends on how you planned them to be used, so relocating them isn't that big of a deal. After all, they are called shipping containers for a reason: they were designed to be moved. And thousands of cities around the world have the equipment to move them.
33. Gift Shop
Handicrafts, souvenirs, or any suitable items that can be given as presents, are found in a Gift shop.
Ever wondered, if you are in an event like a concert, fair, or any event, that you could build a shop wherein you can actually sell related items? Sounds really enticing and exciting, but you wanted to build it quickly so that you could get the first-hand footfall at your store. Now, how about a readily made shipping container? It's fast, economical, customizable, and easy to move around. It is one of the options for building permanent and non-permanent shops. So you may want to check it out.
34. Gymnasium / Personal Training Studio
Everybody wanted to be fit and healthy, same with me and you! And what do we do to get fit and healthy? We try our very best to work out and stay fit.
If working out means we have to go to a training studio, gym, or just simply run, then we have to go out. But with the pandemic around us, we could not just easily go out and mingle as we used to be in a crowded gym.
If you want to own a gymnasium or training studio and run it as a business. In a place where you can easily manage it, then you may want to consider getting a shipping container. You can turn a 40-foot container into an all-male or all-female stationary cycling club or simply a workout gym with all the pieces of equipment needed thereof.
35. Garages
Looking for a secure place where you can park your most precious cars. A 20ft or 40ft shipping container can be an easy solution to your problem. How to turn in a shipping container to a garage?

First, get the type of shipping container that you would require. There are a variety of sizes and dimensions, so you may want to get a quote for any of these containers to continue your planning. Secondly, customize the containers. As these are made to last the extreme conditions they are the safest room for your vehicles.
36. Hair Salon
A Stylist's dream is to own a salon where they can express their stylist's art of creating confidence and beauty for its happy customers. Whether hairstyling or simply pampering customers for their pedicures and manicures, you just want to ensure each client is treated divinely.
So you wanted to have a salon next to your home? and wanted to build it within a budget? Let's think outside the box. Why not make a salon in the box? Yes, that's right. A shipping container salon! The salon can be attached to the owner's house. Like an eye-catching 20-foot shipping container formed in a stylish extension and homely environment.
37. Hotel/Motel

The chances of thinking about living in a shipping container for your next holiday might be the last thing on your mind. But for some fearless and adventurous holidaymakers, this is exactly where they will be sleeping. Shipping container properties are popping up like wildflowers in the meadow(world). And they are as funky, multicolored accommodation at every price point. These hotels are just perfect for everything, whether it's a beach hotel in India, a side of the road motel for traveling business people needing a place to crash before their red-eye flight back home, or a 5-star hotel for the sophisticated traveler – there is a shipping container hotel option for everyone!
38. Hospital
Ever since the pandemic started, medical authorities around the world have thought of how to increase bed capacities for infected patients on a maximized budget; without risking patients who are negative and needed medical attention for their other illnesses. South Korea and Italy are some of the countries that repurposed shipping containers to hospitals. Making Italy the first country to be installed by shipping container hospitals. Each container can hold one or two COVID19 patients with medical equipment needed to treat two ICU patients, including beds, ventilators, monitors, and intravenous fluid stands.
An article published by the World Economic Forum regarding shipping container hospitals as COVID19 game changer. This idea has given way to create portable hospitals, as containers are easy to move and can be quickly deployed whenever needed.
39. Homes

Mirror, mirror on the wall…can you make our container look like a better home? Containers are perfect for creating a special place to show off your favorite curiosities. The interior of our 20ft and 40ft shipping containers is customizable which means that you can create whatever layout fits your needs! You could transform it into a marvelous home.
40. Indoor Garden
Have you heard about aquaponics? I'm sure you would say that this is one of the amazing farming techniques ever invented. Some people would go for vertical gardening using this technique, while others go for conventional. With pipes carefully railed from top to bottom in a polyculture system that allows gardeners to grow their vegetables and raise fish, at the same time.
A shipping container would be perfect for modular indoor gardens. And since the container is made from steel, it has naturally warm temperatures which make growing plants easier and more efficient.
41. Laboratories
Every hospital building can have attached laboratories and cannot run without them. Having a connected shipping container hospital with an attached laboratory is in fact ideal; because detaching contaminated shipping container laboratories would be easier to maintain, rather than the usual laboratories in buildings where the crowd is a concern. As safe as the portable hospital can give, a shipping container laboratory can be as beneficial.
42. Library

Whether an independent shipping container library or within a shipping container school campus, it is a haven for children. Especially when the interior and exterior designs are made appealing to children to have a good read and relax while reading their favorite books. A shipping container library can be your favorite place!
43. Meal Preparation Service
During busy hours, cooking or preparing your meal seems to fall out of other priorities at hand. Thanks to some restaurants that have meal preparation services and deliver your food as you order.
Meal prep service doesn't only apply to restaurant owners but also chefs who would like to serve their valued customers, and if demand for food preparation gets higher and higher, then you would want to have a bigger kitchen. Either stretch your existing kitchen or why not get a shipping container kitchen and build it bottom to top, and place it on an empty lot, furnished with all kitchen equipment and utensils.
As we all know that, shipping containers are easy to move from one place to the other. So, whenever there is an event that needs food prep service, then you can easily install your meal prep service shipping container and serve your food. So you don't just have a delivery service but you also have a shipping container mobile kitchen wherein you can go wherever you want to give in food service.
44. Medical Facility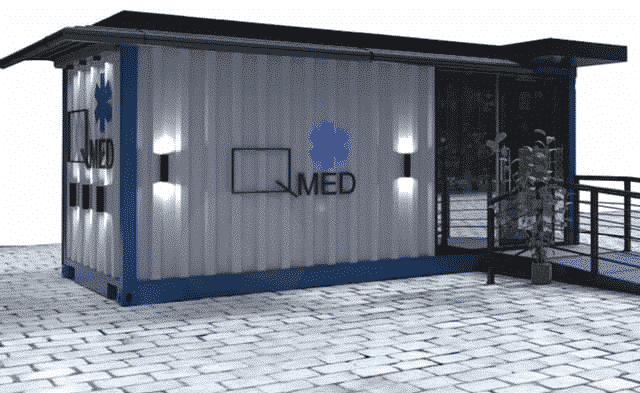 Whether a stand-alone shipping container medical facility or interconnected modular boxes with laboratories to an even bigger shipping container hospital. A shipping container is an ideal building to construct these facilities. Either 20ft and 40ft shipping containers are the perfect places to build a medical facility.
45. Massage Therapy Service
If you are a massage therapist planning to build a SPA or a massage therapy center of your own, you will have to consider some of the questions:
What type of massage services do you want to offer, and what sort of service you'll provide.
Will you work from your home, an office, a gym, or a nursing home?
Will you become a mobile massage therapist?
Depending on your answer above, we can help you streamline this on the place of work and mobility section. And as an option, a shipping container might just fit. Within this container, you must consider the massage therapy equipment you'll need to make this happen.
A friendly reminder: Clients always see a massage business as a "Safe and Relaxing Place to be." So you will need to make sure that you live up to these standards; by simply customizing the shipping container massage therapy service as zen as possible!
46. Music Lesson Service
If we can turn in a shipping container to a school, library, and even a playground, then why not a shipping container music lesson service! You can offer music lessons from all sorts of genres; instrumental lessons to even voicing lessons, your container can be turned into a fantastic music studio too. The container is a great place to start a music lesson service! Every interior can be customized, which means you choose what items are necessary for your business.
47. Malls / Shopping Mall

May it be for shopping malls, retail stores, pop-up shops, and all types of shops. Shipping containers are the perfect place for an indoor mall! The idea is, if you are building malls using shipping containers, then the rental fees will likely be cheaper, which is essentials for small businesses to start and introduce their products to the market. And if you are still new to this idea, then you may want to see some existing shipping container malls that are constructed in the busy streets of London since 2016.
48. Movie Theater

What an amazing idea of stacking up shipping containers to create a massive screen for an outdoor pop-up drive-in movie theater/cinema. Yep, that's right, A shipping container movie theater/cinema. The stacked containers behind the massive screen can also serve as an office or storage for equipment.
49. Nail Salon Service
If you fancy nail art and wanted to start a small business then the perfect place for someone interested in starting a nail salon service! If you got an empty lot and have a small budget for construction, then a shipping container can be easy to transform into whatever layout you need.
50. Office

We have seen 20ft and 40ft shipping containers apartments, shelters, homes, and hotels. The office is one of the many options that you could repurpose in a shipping container. You may happen to come and visit a seaport and find stacked shipping container offices. Same with any building construction site, workers have both shipping container offices and temporary accommodation.
51. Nurseries
Within a compound of a shipping container greenhouse and shipping container indoor garden/farm, you must have a nursery for your plants and potting soils.
52. Pop up Shop

Since people can not crowd in shopping malls and because of restrictions for our safety due to the COVID19, these small retail pop-up shops are growing around the world. So branded and unbranded merchandise is beginning to be seen on the street in a shipping container pop-up shop. These containers are economical and can be installed and uninstalled whenever you want to. They can also be permanently constructed where stable footfalls buyers exist.
53. Portable Toilets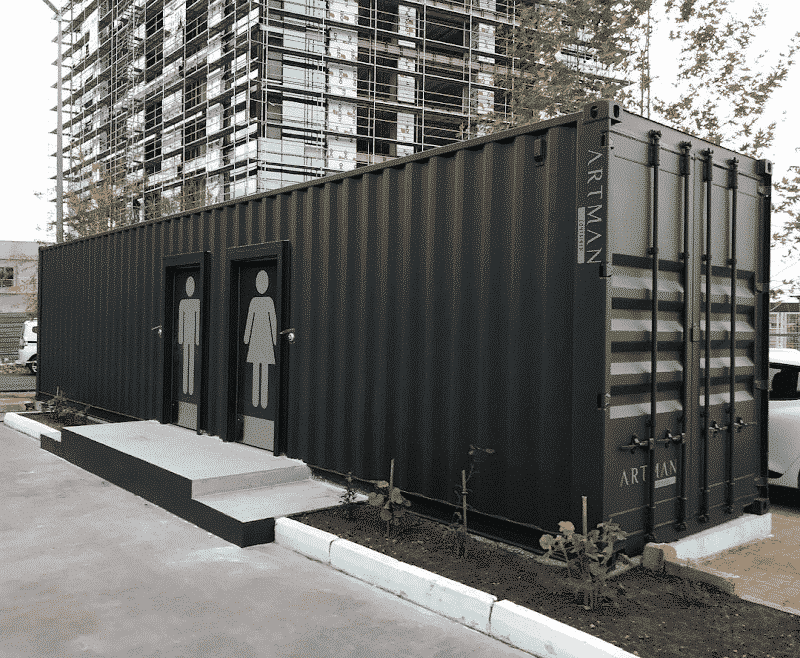 Wherever we are we always need to go to the nearest toilet. And if the portable toilet is your business, then you may want to consider free fab modular boxes. It's cheap, moveable, and eco-friendly. Having shipping containers portable toilets, may just save your startup operational budget on the production and focus on installation.
54. Playhouse
We can easily turn a shipping container into a playhouse. You can use the full shipping container itself or cut it into half and build a mini-house. You can fill in the playhouse with a small bed, books, and decorations that children would feel like owning the place, be free, and do their thing. Outside the shipping container playhouse, you can build a playground where they can hang out with their friends in a see-saw, swing, or slide.
55. School Playground
One of the happiest places in school is the school playground. Just like the playhouse can make every kid's dream of owning their home. A shipping container playground can be as enjoyable, where kids can have fun with their little adventure.
56. Patio
Along the beach, beside the pool, or on an empty lawn, a shipping container patio would best fit! A container designed with cozy and relaxing themes, that match with sofas or just bean bags on the front doors. It is the best place for family indoor gatherings.
57. Restaurant

One, two, three, to almost five eateries in one place are just popping out from all around us. How about a shipping container restaurant? Am sure you must have sited one from around you, or if not yet, then you must be amazed to learn about them, just like me. These eateries can come in different types; cafes, coffee shops, bars, and bistros. They may come with intricate designs and themes, that would attract the market, and please customers to drive in, eat, or just stay together with the family.
58. Storage Shed
A metal steel box like a shipping container is one of the best storage shed for your farm vehicles. As we all know that these modular boxes are sturdy and can withstand even extreme weather conditions, so storing your valuables will be safe and sound. Shipping container storage shed has been famous since it started, as it is cheap to build, you don't have to spend a lot on maintenance.
59. Spa
A Spa is a place where you want to detox, unwind, and just relax at the end of a hectic day. It could be where there's fresh natural air or be in a city where you can have some soothing music therapy. Heard about a shipping container SPA? Yes, they do exist for some time now. In achieving a shipping containers SPA, you can transform the container by building the facility's basic amenities, including a solarium, cold plunge buckets, a sauna, and hot pools. You may design the container however you want it. Additionally, because they are made from steel, they naturally attract attention making it easier when attract customers.
60. Storage Facility
A great way to re-purpose a shipping container is as a storage facility. You can fit a lot of items in a 40-foot unit or even just the regular shipping container– this makes it perfect for storing seasonal items, holiday decorations, and sports equipment. Whether you wanted a storage facility for your personal pieces of stuff or run a business rental for a storage facility then a shipping container is just as perfect!
61. Schools

Shipping container schools are all the range in many countries. They can be equipped with desks, chalkboards, and built-in sinks. Brightly colored walls make them a really inviting place to learn and play. Of course, they will need some outdoor space for recess and sports activities, but you can accomplish this by creating a playground adjacent to the container or by building an outdoor play area on top of the container.
62. Stores

Stores are usually built-in brick-and-mortar buildings, with walls, floors, and roofs. But let's say you want to start a store where customers can walk through your entire inventory without flipping through pages on their phones. Or you want to sell food truck goodies out of the back of your truck. Or you need an office but don't have the time or money to build one. Surprise! You don't have to wait for a construction crew. Why not build a temporary structure out of a shipping container?
63. Studios
Instead of building out a full office or turning your garage into a workshop, you can use a shipping container as your own private studio. That way you won't be tied to open hours and scheduled appointments–you can work when YOU want, and it'll still look like an office or workshop. You don't even need to hire an architect.
64. Sauna

Why heat up your entire house when you can heat up only the sauna with a heating element? That's what one SAUNA fan did to his shipping container. He dropped it in his backyard, where he had plenty of room for storage and shade–and then laid down some solar heating panels over it. Perfection!
65. Student Housing Facility

At the University of Amsterdam, shipping containers are being used to build temporary housing for students. The pre-fab homes can be assembled quickly, and they're cheap to build (just €3,000 per unit). Plus they're small enough that you don't need a construction crew or permits–anyone with some free time and basic tools can assemble a shipping container for a student house.
66. Swimming Pools

If you want to take the plunge by adding a swimming pool, why not turn a shipping container into a pool? You can simply make use of one or two for your shipping container pool. You'll need to remove about half the container's wall and put in some windows. Then cover either side with water-proof material (like fiberglass) and put glass in the windows.
67. Sport Centers
If you're into soccer, give your child a chance to become a professional player while enjoying the clean air and scenic beauty of your own backyard. You can easily convert one or two shipping containers into a pitch for your neighborhood kids' soccer team. Just add some nets, grass seed, and a few hoops for decoration–and voila! You got yourself a shipping container sports center!
68. Tiny Homes

If you want to build a tiny home, but don't have the money or know-how to do it yourself, here's an easy way out. Buy one shipping container for less than $3,000 and use it as your foundation. Then cover it with plywood (or even some wooden panels) and paint over the whole thing with a waterproof agent. Need our help with a quote.
69. Tasting Room
If you have a winery, you probably think about building a tasting room where customers can learn about the grapes and enjoy the finished product. Instead of calling several contractors and waiting for them to show up (or hiring architects), consider making use of one or two shipping containers instead. They're quick and easy to convert into a little house, and they're cheap to boot.
70. Tour Guide Company
The only thing faster than a speeding train is the need for expert tour guides. Instead of hiring one by one, try making use of shipping containers to house your employees. That way you can have them ready whenever you have some new visitors on board who want to learn more about the Golden Gate Bridge or St Marks Square.
71. Tutoring Service
Instead of hiring expensive tutors, you can house them inside a converted shipping container. Then have the students come to them just as they would for school or after-school activities like sports and art classes. You'll save on overhead costs (because there's no building to maintain) and you'll make all the money back in time saved not walking from building to building.
72. Vacation Homes

Vacation homes are common throughout the world, but they take a lot of time and money to build. Why not try recycling some shipping containers instead? You can either buy one container and turn it into your dream house or you can buy two, fill them with insulation material, and put them side by side for extra space. Either way, you'll save thousands on building costs.
73. WorkShop

If you want to make furniture or other products, but don't have the money or know-how to do it yourself, consider making use of one or two shipping containers. You can turn them into workshop spaces with just a few extra windows and some worktables inside. Then all you need is a good CNC router and you're ready to go.
74. Yoga Studio
Yoga studios are everywhere these days, but they can be expensive to set up. Why not try recycling one or two shipping containers instead? You can have the yoga studio inside and a separate area outside for relaxing–or even some other outdoor activity like gardening. It's an easy way to save money on building costs.
Now that we'd laid out all these great ideas of building out your place or business with the use of a shipping container, you may want to ask these questions:
Which shipping container would be best, new or old containers? What are the types of Shipping containers? What are the sizes of shipping containers? What are New and Old shipping containers?
All of these can be answered by any of our team. Waiting for your call!
Interested in purchasing shipping containers? Container Sales Group has what you need! Contact us online or through our telephone number (708) 639-4783
Container Sales Group Offers The Following services:
Other Articles We've Hand-Picked for You