Shipping Container Leasing: How To Guide
Transporting goods by sea, land, or sometimes also by air usually requires large containers measuring approximately 40 feet long. The cost of shipping containers can be high when they aren't used on a regular basis. Leasing shipping containers is a better choice in this case. A small business needs to take certain factors into account before leasing shipping containers for a long term lease. Shipping Container Leasing is an affordable way to ship your items in 2021.
An easy-to-follow guide
Step 1
Select the type and the size that will meet the needs of your business. Rental of a large shipping container can be more cost-effective, saving you money than leasing multiple smaller units as it could carry all your goods for shipment. You will need to take into account the right size of container for each shipment when several shipments are going to different locations.
Step 2
Determine the length of time you should rent a container. To determine how long it will be needed for one shipment, as well as the schedule for returning it to the rental company, it is necessary to figure out the transit time. A shipping container should be kept as long as possible before being returned if it is leased long-term. You should be aware that many companies offer long-term rentals with large discounts.
Step 3
Compare the rates offered by different companies and what type of leasing they are offering via the Internet. Make sure you consider several companies before choosing one. It's worth the time and effort to compare rental companies so you get the best deal.
Step 4
A lease contract must be signed. You will need to complete an application with your business information and information about the types of goods you will keep in the containers. Additionally, the leasing company will require a deposit on the shipping container that will ultimately be refunded after it is returned. Depending on your shipping company, you may also need to sign a legal waiver so that if there are any damages, you won't be responsible for them.
Step 5
Calculate how much the total delivery costs of the sea container will be when shipped to the warehouse. Depending on where your business is located, the container may have to be shipped to you. Consequently, your overall expenses would increase. You should take this into consideration when tracking your expenses.
Step 6
Decide where you will store the the unit until the time that your merchandise is scheduled to be shipped out. Make sure the place is prepared beforehand. The container will have to be stored on a lot if not enough space is available to store it. It is possible to request that the shipping company's facility store the container if your facility cannot accommodate it. The cost of storage will be reduced.
Have any question on our shipping container services? Read our FAQ Section.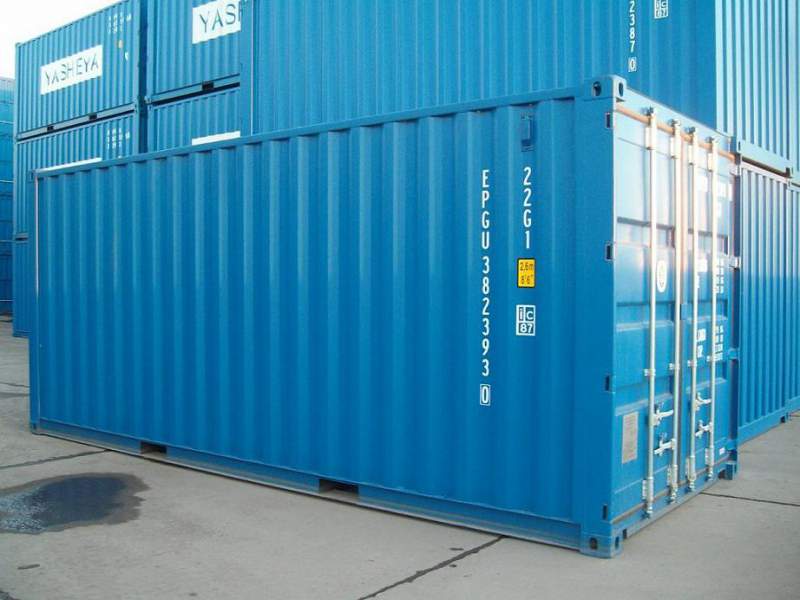 How to move a Shipping Container?
The most popular types of trucks and trailers used to move shipping containers:
Rollback or tilt-bed truck
Rollback trucks, also referred to as flatbed tow trucks, are a popular option for when the containers aren't too heavy. Their unique tilt-bed design allows you to use the incline for sliding the container onto the ground. If you want to transport the container below 200 miles and unload without additional equipment, you should use a tilt-bed truck.
Shipping container weight: approximately 20 ft. 5,000 lbs. It is approximately 40 feet long and weighs 8,000 pounds.
Step-deck truck
Additionally, a step-deck truck has a platform on which containers can be placed. The only difference here is that its platform is lower to the ground. This enables you to carry relatively taller, high-cube containers. In order to move the container, you need a forklift or crane.
Weight of shipping container: 40 ft. Approximate high cube weight: 8,500 lbs. Containers are meant to be used continuously. Shipping industry indicates that a vehicle is loaded with new cargo shortly after having emptied out its previous cargo.
It is sometimes impossible to do this, and in other cases, the cost of transporting a used container to a location where it will be used exceeds its value. Container leasing companies and shipping lines have become experts at relocating empty containers from areas of low or no demand. In addition, damaged or retired containers may be repurposed through the construction of new shipping containers or the use of salvaged steel.
Click here for a FREE QUOTE on our Shipping Containers, or you can call us directly at (708) 639-4783
Containers Sales Group offers the following services:
Other Articles We've Hand-Picked for You